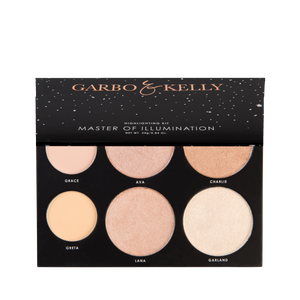 VEGAN | CRUELTY FREE
FLAWLESS FINISH | 4 HIGHLY PIGMENTED SHIMMER SHADES
This is a shimmer and matte highlighting kit
What it does:
The Master of Illumination Highlighting Palette is a combination of 4 highly pigmented shimmer shades and 2 matte shades in warm and cool tones. This allows for an illuminated and flawless skin finish. Emphasise the cheeks, eyes and brow bone for an instant lift, creating a youthful and healthy glow for Red Carpet looks.
4 wells to be used in conjunction with contouring, brow application and highlighting. To be used on the brow bone, eyes, bow of the lips, cheek bones, down the nose and chin. Also, great for décolletage, shoulders and collar bone.
Charlie is a bronze shade can be used on tanned skin and warm eyeshadows
Ava a rosy shade gold shade for all skin tones for a fleshy glow and cool eyeshadow
Lana is a chiffon shade for beige skin tones and a healthy glow and earthy eyeshadows
Garland is a sandy shade for cool skin for a fresh glow and cool eyeshadows.